Do you want to study in Finland? Or perhaps teach in a Finnish school? To communicate effectively as a student or teacher in Finland, you'll want to learn some common Finnish classroom phrases and vocabulary.
 In this guide, we will cover key classroom vocabulary and lots of conversational Finnish for different situations, including greeting others in the class, giving instructions and feedback, asking questions, and explaining why you're late! We'll also discuss how Finnish people address each other in schools and higher education.
 Take a seat. The class is about to start!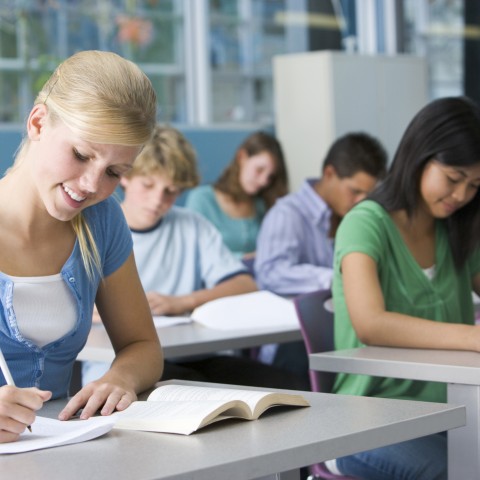 Aika opiskella. ("Time to study.")
Table of Contents
1. Using Classroom Greetings
 Before we learn some common greetings, let's discuss how to address other people in a Finnish classroom.
1- How to Address Others 
Students in Finland address each other casually and call each other by their first names. But how do students address their teachers in Finland? Unfortunately, there's no straightforward answer to this! It depends on individual preferences and the culture of the school. We can give you some pointers, though!
 Finnish school children may call their teacher opettaja ("teacher") or ope (short for opettaja), but Finns in higher education aren't likely to address teaching staff by their professional titles. Using general titles like herra ("mister"), rouva ("mrs"), and neiti ("miss") is rare as well. People who are older or in senior positions may expect to be addressed formally with a title, but in general, Finns tend to find this way of talking rather stiff and distant.
 Sinuttelu (using the casual form of "you": sinä) is more common than teitittely (using the formal form of "you": te), and in many schools, both students and teachers are happy to call each other by their first name. And when teitittely feels too formal and sinuttelu too casual, Finnish people get around the dilemma by avoiding addressing someone directly. For example, by talking in the third person or using the passive!
2- Classroom Greetings
Now let's move on to some formal and informal Finnish classroom greetings that you can use at the beginning of the class.
Hyvää huomenta oppilaat / opiskelijat! ("Good morning pupils / students!")
Huomenta kaikille! ("Good morning everyone!")
Hyvää huomenta luokka. ("Good morning class.")
Hyvää päivää, opettaja. ("Good day, teacher.")   
Päivää, Sini. ("Good day, Sini.")
Hei / moi / terve Salla. ("Hi / hi / hello Salla.")
Tervetuloa takaisin. ("Welcome back.")
Here are some phrases that can be used when the class is over:
Kiitos kaikille, tunti on ohi tältä päivältä. ("Thank you everyone, the class is over for today.")
On aika lähteä kotiin. ("It's time to go home.")
Näkemiin, opettaja! ("Good bye, teacher!")
Huomiseen. ("Until tomorrow.")
Nähdään huomenna, Katri! ("See you tomorrow, Katri!")
Nähdään ensi viikolla. ("See you next week.")
Hyvää viikonloppua kaikille! ("Have a good weekend everyone!")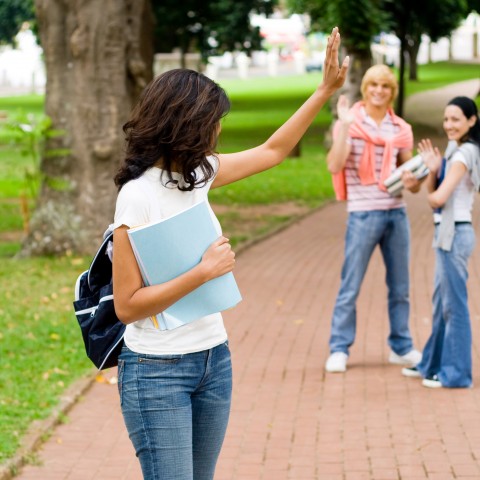 Nähdään huomenna! ("See you tomorrow!")
2. Listening to the Teacher
If you're a student, this section will help you understand what your teacher is saying in class. If you're a teacher, you'll learn Finnish phrases that will help you give instructions, ask questions and give feedback to your students.
1- Instructions 
Avatkaa kirjanne sivulta/sivulle 48. ("Open your books to page 48.")
Kääntäkää sivua. ("Turn the page.")
Aloitetaan tehtävästä kaksi. ("Let's begin with exercise two.")
Tehkää tehtävät viisi ja kahdeksan. ("Do the exercises five and eight.")
Kuunnelkaa tarkasti ja toistakaa perässä. ("Listen carefully and repeat after me.")
Muodostakaa neljän hengen ryhmiä. ("Form groups of four.")
Valitkaa pari seuraavaa tehtävää varten. ("Choose a partner for the next exercise.")
Keskustelkaa parin kanssa / ryhmissä. ("Discuss with a partner / in groups.")
Kirjoittakaa vastaukset vihkoon. ("Write the answers in your notebook.")
Tänään harjoittelemme verbien taivutusta. ("Today, we'll practise conjugating verbs.")
2- Questions
Ovatko kaikki paikalla? ("Is everyone here?")
Kuka puuttuu? ("Who is missing?")
Tietääkö kukaan vastausta? ("Does anyone know the answer?")
Kuka haluaa lukea ensimmäisen kappaleen ääneen? ("Who wants to read the first paragraph out loud?")
Kuka haluaa aloittaa? ("Who wants to start?")
Kenen vuoro on seuraavaksi? ("Whose turn is it next?")
Voisitko sulkea oven? ("Could you close the door?")
Voitko selittää sen omin sanoin? ("Can you explain it in your own words?")
Voitko puhua kuuluvammin? ("Can you speak a little louder?")
Onko kysyttävää? ("Any questions?")
3- Discipline
Istukaa alas. ("Sit down.") 
Viitatkaa, jos tiedätte vastauksen. ("Raise your hand if you know the answer.")
Hiljaisuutta, kiitos. ("Silence, please.")
Lopettakaa lörpöttely. ("Stop the twaddle.")
Here are some other fun Finnish words for disruptive chatter: höpötys, höpinä, löpinä, pölinä.
4- Feedback
Hyvin tehty. ("Well done.")
Juuri niin. ("That's right.")
Aivan. ("Exactly.")
Tuo on oikein / väärin. ("That is correct / incorrect.")
Ei noin. ("Not like that.")
Yritä uudestaan. ("Try again.")
Ääntämisesi on erinomainen / kaipaa lisää harjoitusta. ("Your pronunciation is excellent / needs more work.")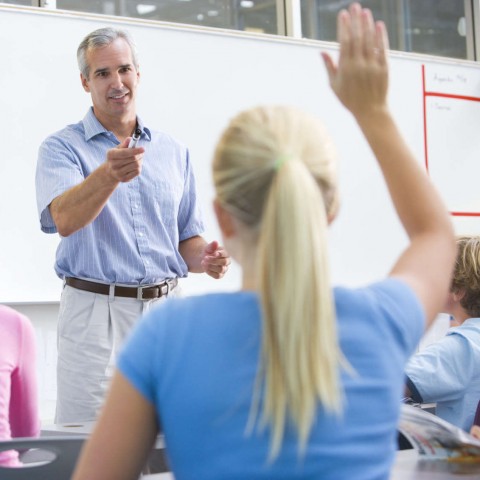 Ole hyvä, Anna. ("Go ahead, Anna.")
To be able to form your own Finnish classroom command phrases, you need to know how to use the imperative verb form. Give Me a Lesson in Finnish explains how it's done.
3. Asking for Help
 Being able to ask for help in the classroom is essential. In this section, we teach you Finnish classroom phrases to help you ask questions and explain what you're struggling with.
 If you don't like asking questions, take this Finnish proverb to heart and do it anyway!
Ei kysyvä tieltä eksy. ("There's no shame in asking." Literally: "The one who asks won't get lost on the road.")
1- I Have a Question
Voitko auttaa minua? ("Can you help me?")
Mitä opettaja sanoi? ("What did the teacher say?")
Voitko toistaa sen? ("Can you repeat it?")
Voitko näyttää sen uudestaan? ("Can you show it again?")
Voitko puhua hitaammin? ("Can you speak slower?")
Millä sivulla olemme? ("What page are we on?")
Teinkö tämän oikein? ("Did I do this correctly?")
Missä kohtaa tein virheen? ("At what point did I make a mistake?")
Mitä tämä sana tarkoittaa? ("What does this word mean?")
Mitä… on suomeksi / englanniksi? ("What is… in Finnish / in English?")
Miten sanon tämän suomeksi: …? ("How do I say this in Finnish: …?")
Voinko lainata muistiinpanojasi? ("Can I borrow your notes?")
Mihin aikaan pidämme tauon? ("What time are we having a break?")
2- I have a Problem
Minulla on kysymys. ("I have a question.")
Minulla on ongelma. ("I have a problem.")
Tarvitsen apua. ("I need help.")
En ymmärrä tätä. ("I don't understand this.")
En ymmärtänyt kysymystä. ("I didn't understand the question.")
Anteeksi, en vieläkään ymmärrä. ("Sorry, I still don't understand.")
En tiedä. ("I don't know.")
En ole varma. ("I'm not sure.")
En tiedä miten tämä äännetään. ("I don't know how this is pronounced.")
En tiedä miten tämä sana lausutaan. ("I don't know how this word is pronounced.")
Tarvitsen lisää aikaa. ("I need more time.")
En osaa kääntää tätä lausetta. ("I can't translate this sentence.")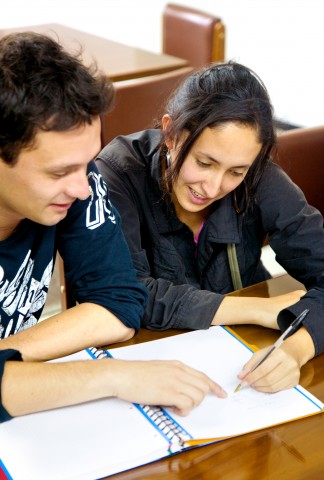 Autamme toisiamme. ("We help each other.")
4. Explaining Absence and Tardiness
Are you running late? Or did you forget to do your homework? Put on your most charming smile and explain it in Finnish and you might just get away with it.
1- Sorry I'm Late 
Anteeksi, että olen myöhässä. ("I'm sorry that I'm late.")
Nukuin pommiin. ("I overslept.")
Herätyskelloni ei soinut. ("My alarm didn't go off.")
Myöhästyin linja-autosta. ("I missed the bus.")
Bussi oli myöhässä. ("The bus was late.")
En löytänyt avaimiani. ("I couldn't find my keys.")
Pyörästäni puhkesi kumi. ("My bike's tire burst.")
En löytänyt parkkipaikkaa. ("I couldn't find a parking place.")
Unohdin, että kellot siirrettiin eilen kesäaikaan. ("I forgot that the clocks were switched to Summer Time yesterday.")
This is a mistake that students in Finland won't be making for much longer since the European Union is phasing out summer time!
2- I Don't Feel Well
En voi tulla tunnille tänään. ("I can't come to the class today.")
Minulla on huono olo. (I'm feeling unwell.")
Olen kipeä. ("I'm sick.")
Minulla on vatsatauti / kuumetta / flunssa. ("I have a stomach bug / fever / the flu.")
Vatsaani koskee. ("My stomach hurts.")
Päätäni särkee. ("My head hurts.")
Minulla on lääkäriaika yhdeltätoista. ("I have an appointment at the doctor's at eleven.")
3- I Didn't Do My Homework
Note that there are two Finnish words for "homework": kotitehtävät and läksyt.
En tiennyt, että meillä oli kotitehtäviä. ("I didn't know that we had homework.")
Unohdin tehdä läksyt. ("I forgot to do my homework.")
Tein kaikki kotitehtäväni mutta hukkasin ne. ("I did all my homework but lost it.")
Koira söi läksyni. ("The dog ate my homework.")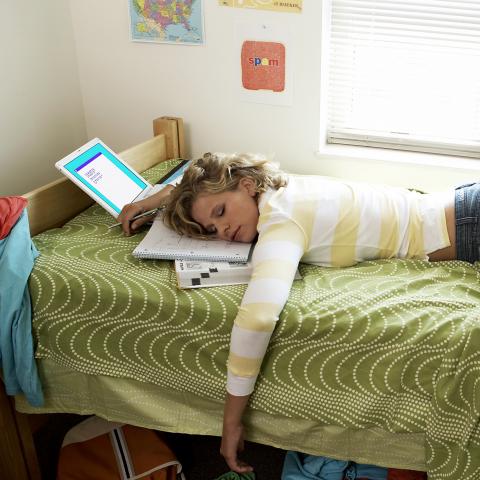 Otan mieluummin nokoset. ("I'll rather take a nap.")
 Head to the Too Cool for School Finnish vocabulary list to find out what bad students get up to!
4. Talking about School Subjects
 In this section, we'll learn what common school subjects are in Finnish and how to talk about them.
1- Common School Subjects 
matematiikka ("mathematics")
fysiikka ("physics")
kemia ("chemistry")
biologia ("biology")
maantieto ("geography")
historia ("history")
psykologia ("psychology")
filosofia ("philosophy")
kuvataide ("art")
musiikki ("music")
liikunta ("physical education")
terveystieto ("health education")
uskonto ("religion")
äidinkieli (literally: "mother tongue" This is what Finnish speakers call Finnish class.)
vieras kieli ("foreign language")
kirjallisuus ("literature")
2- Talking About School Subjects
Mikä on lempiaineesi? ("What's your favorite subject?")
Minun lempiaineeni on kuvataide. ("My favorite subject is art.")
Pidän historiasta. ("I like history.")
En pidä filosofiasta. ("I don't like philosophy.")
Mistä aineesta pidät eniten / vähiten? ("Which subject do you like the most / the least?")
Pidän eniten / vähiten kemiasta. ("I like chemistry the most / the least.")
Minusta fysiikka on helppoa / vaikeaa. ("I find physics easy / difficult.")
En ole hyvä maantiedossa. ("I'm not good at geography.")
Olen menossa biologian tunnille. ("I'm going to the biology class.")
Matematiikka on haastavaa, mutta pidän siitä. ("Mathematics is challenging, but I like it.")
Rakastan suomen kielen opiskelua. ("I love studying the Finnish language.")
Are you confused about the different Finnish verbs of learning? Here's a quick demonstration of the differences:
oppia ("to learn")

Opin uimaan 10-vuotiaana. ("I learned to swim when I was 10 years old.")

opiskella ("to study")

Opiskelen filosofiaa Helsingin yliopistossa. ("I study philosophy at the University of Helsinki.")

opetella ("to learn through trying", "to teach oneself")

Haluan opetella soittamaan harmonikkaa. ("I want to teach myself to play the accordion.")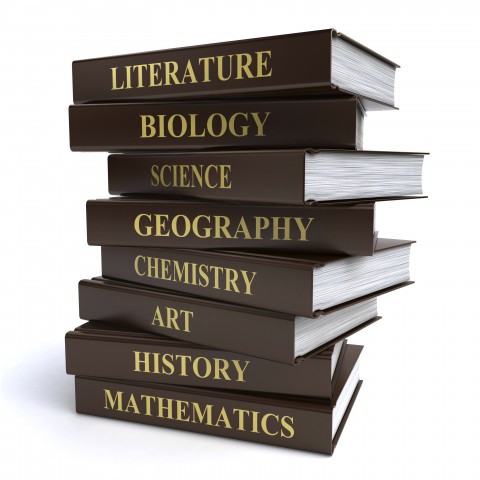 Mikä on lempiaineesi? ("What's your favorite subject?")
If you're not sure how to pronounce the words in this section, our vocabulary list School Subjects can help! 
5. Checking for School Supplies
Have you got everything you need for the class? In this section, you'll learn Finnish vocabulary for school supplies and what to say if you need to borrow a sharpener!
1- Common School Supplies
 oppikirja ("textbook")
vihko ("notebook")
viivoitin ("ruler")
paperiliitin ("paper clip")
lyijykynä ("pencil")
värikynä ("colored pencil")
mustekynä ("pen")
penaali ("pencil case")
nitoja ("stabler")
liimapuikko ("glue stick")
paperi ("paper")
teroitin ("pencil sharpener")
sakset ("scissors")
liitu ("chalk")
pyyhekumi ("eraser")
laskin ("calculator")
tietokone ("computer")
tabletti ("tablet")
kansio ("binder")
karttapallo ("globe")
teippi ("tape")
reppu ("rucksack")
liitutaulu ("blackboard")
valkotaulu ("whiteboard")
2- Talking about School Supplies
Voinko lainata teroitintasi? ("Can I borrow your pencil sharpener?")
Oletko nähnyt vihkoani? ("Have you seen my notebook?")
Tiedätkö missä sakset ovat? ("Do you know where the scissors are?")
Saanko viivoittimeni takaisin? ("Can I have my ruler back?")
Unohdin kirjani kotiin. ("I left my book at home.")
Olen kadottanut penaalini. ("I've lost my pencil case.")
En löydä mustekynääni. ("I can't find my pen.")
Minulla ei ole liimapuikkoa. ("I don't have a glue stick.")
Onko sinulla ylimääräistä pyyhekumia? ("Do you have a spare eraser?")
Voit lainata nitojaani. ("You can borrow my stapler.")
Olen pahoillani, mutta tarvitsen sitä itse. ("I'm sorry, but I need it myself.")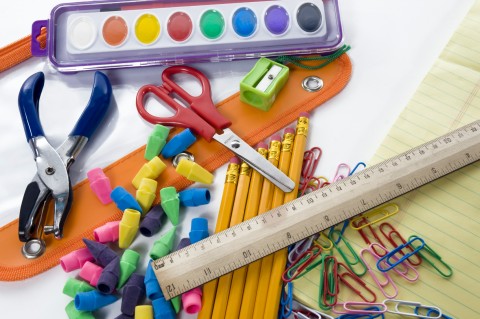 6. How FinnishPod101 Can Help You Learn More Finnish
In this guide, we've covered over 100 Finnish classroom phrases to help you understand instructions, ask for help, talk about school subjects and much more. We also listed essential school vocabulary in Finnish, including school subjects and school supplies, to prepare you for daily life in a Finnish school. Are there any other words or basic Finnish phrases you think we should have included? You can always drop a comment below and share your thoughts!
Head over to FinnishPod101 if you're ready for more Finnish language learning. You'll find plenty of Free resources, including vocabulary lists, which are a handy tool for expanding your Finnish vocabulary and practicing your pronunciation. We also offer a premium service, My Teacher, which gives you access to 1-on-1 tuition with a private Finnish teacher and a personalized lesson plan.
Happy learning on FinnishPod101!